ARU Starter Kit
Sale price
$99.99
Regular price
Unit price
per
Professional Pricing
Sold out
In stock (2975 units), ready to be shipped
Description
What's Included:
Waterproof handle
30+ days battery life
Travel case
Mirror mount
Meet the ARU, an advanced sonic toothbrush designed to protect enamel and gums from damage or irritation without sacrificing a professional-grade clean.  Inspired by the efficiency of a beehive, the ARU brush head features a patent-pending hexagonal design perfect for cleaning in between teeth, around grooves, and hard to reach places.  Don't be fooled by the soft finish—with flexible bristles 20x slimmer than regular bristles, ARU combats plaque quickly and efficiently without damaging your gums. With a built-in timer, three cleaning modes, and a four-week battery life, the ARU is an oral health game changer. Don't take our word for it though—feel the ARU difference.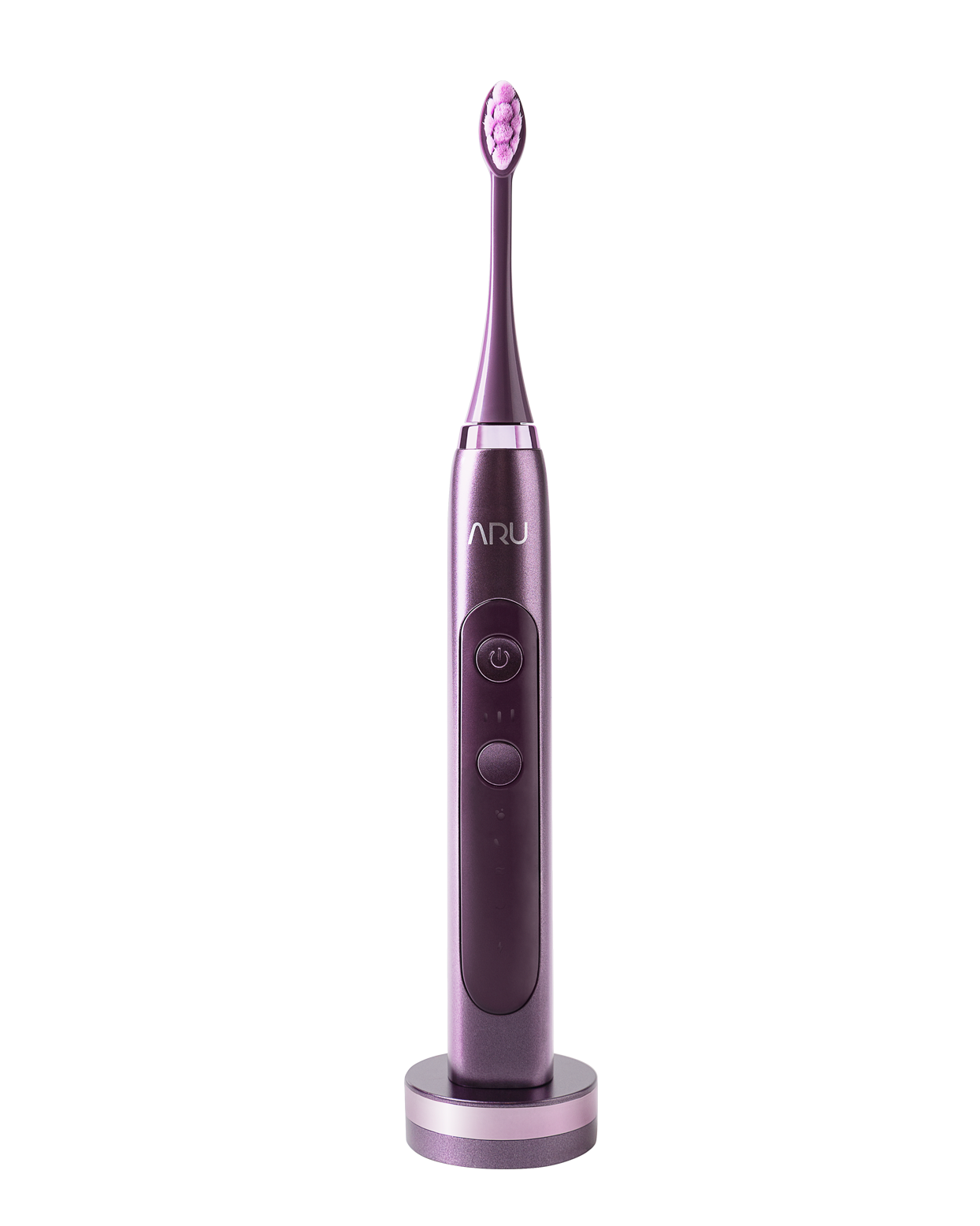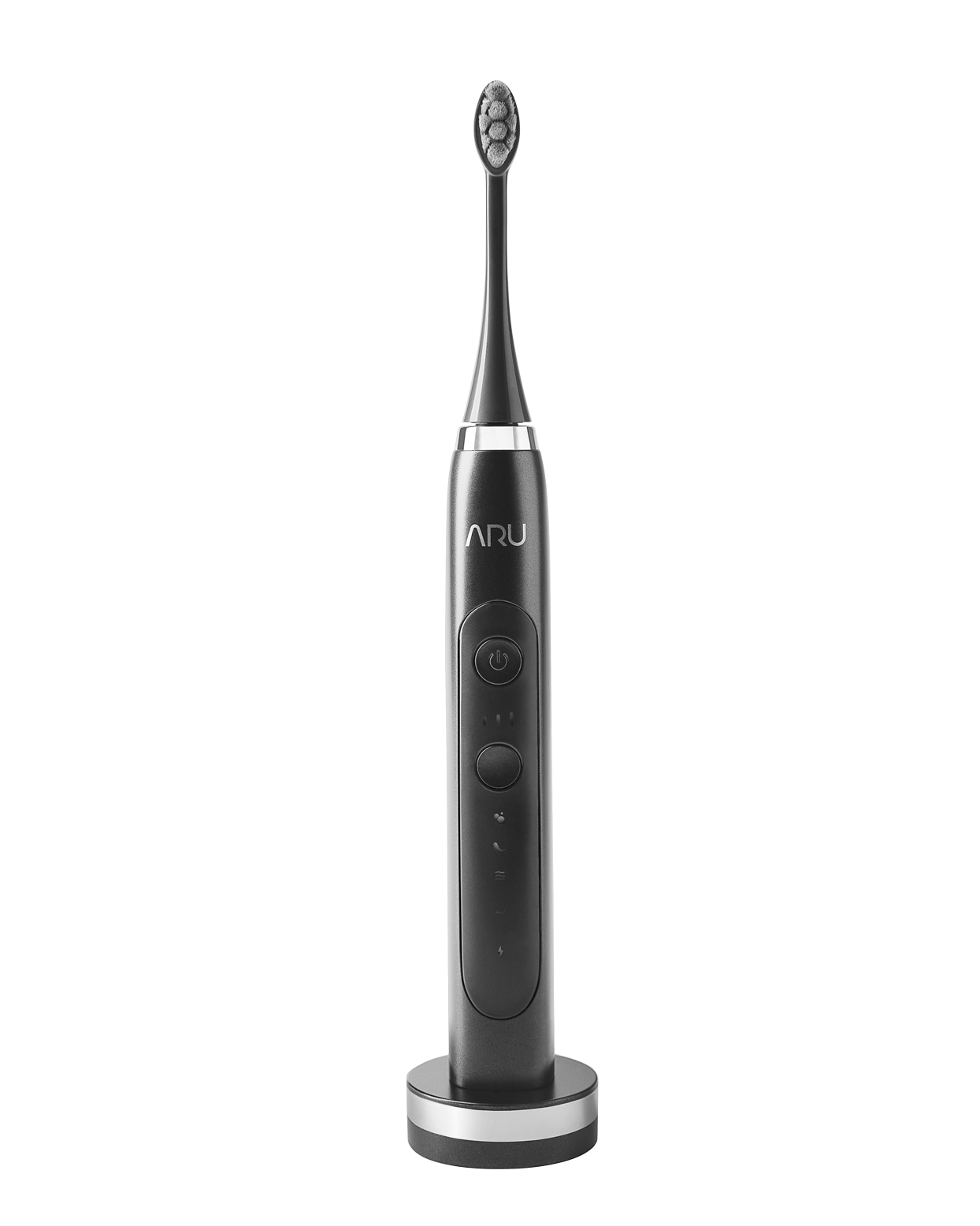 Excellent toothbrush
Very good electric toothbrush. Nice design good job cleaning my teeth
Works as well as Sonicare
Great toothbrush!
I really like this toothbrush. I have used different sonicare and OralB electric toothbrushes and this feels the best. Soft, gentle bristles and teeth feel very clean afterwards.
Exceeded all expectations
I was given this toothbrush as part of a 7 day trial, but this does not skew my review of this toothbrush - I am being honest about my experience. For context, I have been using this toothbrush on the "whitening" mode with the softest vibration setting.
I was honestly quite skeptical of this toothbrush at first, and I thought with such a steep price I'd be disappointed in how it would perform. Those doubts almost immediately vanished. I've never gotten such consistently great results out of a toothbrush! I've recently had my teeth cleaned at the dentist, and the cleaning I get from this toothbrush comes pretty close to how I felt when I left the dentist's chair. This brush provides such a gentle clean that I am absolutely certain that neither my teeth nor my gums are being hurt by it. Even with great technique on a manual toothbrush (I previously used the Colgate Gum Health Extra Soft), my Colgate brush pales in comparison to the ARU.
I'm a big fan of the ease of use (sonic toothbrushes are very easy to get used to), the timer on the brush, and the way the bristles feel. While the bristles are gentle on my mouth, I'm still able to feel where I have and haven't cleaned. Comparing these bristles to those of a big-brand toothbrush marketed as "ultra soft," the ARU's bristles still blow it out of the water.
I can't recommend this toothbrush enough. This is a stellar toothbrush kit if you have the wherewithal to spend on it.
Better than my old toothbrush
I like the Aru toothbrush more than my old one. I feel like it cleaned my teeth a lot more and using the different modes definitely made a difference. When i used my old one, my teeth didn't look as clean as they would when I use the Aru one, and i also didn't like the way my teeth felt after using my old one. My old one also felt very harsh for some reason.
Omar's ARU Review
I recently purchased the ARU sonic toothbrush, and I must say it has exceeded my expectations in many ways. The innovative design, coupled with its advanced features, truly sets it apart from my previous manual toothbrush.
Firstly, the ARU's brush head design effectively reaches between my teeth and into hard-to-reach areas, providing a thorough clean that my old manual toothbrush couldn't match. The built-in timer and three cleaning modes are valuable additions, ensuring I spend the recommended time brushing and allowing me to customize my routine based on my oral health needs. The four-week battery life is very convenient. The inclusion of a travel case and mirror mount is a thoughtful touch, enhancing the overall convenience of the ARU toothbrush. The waterproof handle adds an extra layer of durability, and I appreciate the attention to detail in ensuring the longevity of the product. In comparison to my old toothbrush, the ARU stands out not only in terms of performance but also in the overall oral care experience it provides. The difference in cleanliness and the noticeable improvement in gum health make it worth the investment.
What I like:
-Innovative hexagonal brush head design for thorough cleaning.
-Slim and gentle bristles combat plaque effectively.
-Built-in timer and three cleaning modes for a personalized routine.
-Impressive four-week battery life.
-Travel case and mirror mount for added convenience.
What I don't like:
Honestly, there's very little to dislike about the ARU toothbrush. If I had to nitpick, the soft finish might not appeal to everyone, but it's a minor consideration given its overall effectiveness.
Overall, very happy and satisfied with my purchase !
Omar Elfiky